I. Pay Online
We accept payments using Credit Cards, Debit Cards, and Netbanking of all major banks. We process your payments securely through our payments provider PayU.
You will need to enter your Account-ID and Username in the payment page. These will be available in your bill or you may contact our customer care.





II. Pay through UPI / Scan to Pay
Open your UPI app, scan the QR code or enter the UPI ID – paytmqr2810050501011mpj11prevnk@paytm , and confirm to process the payment. Make sure our name SymBios Creations Pvt Ltd is shown after UPI ID is verified.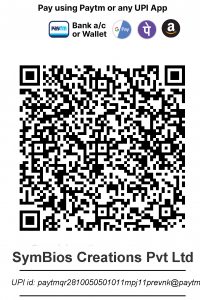 After successful payment, kindly provide us a proof of payment along with your broadband userid. You may whatsapp us @ 8794039534 or mail it to [email protected] so we can credit your payment.
III. Pay Cash/ Card (POS Machine)
Visit any of our nearest office below to make cash or card payment :
Head Office:
SymBios Creations Private Limited
001, IT Complex, Nagarjan Point
Dimapur – 797112, Nagaland, India
Phone: +91 3862 233 270
SymBios Creations Private Limited
C-22 SymBios Building, Near old Minister Hill Junction
Kohima – 797001, Nagaland, India
Phone: +91 0370 224 3005
SymBios Creations Private Limited
Second Floor, Rotary Club Building
IM Road, Sangtemla Ward
Mokokchung – 798601,
Nagaland, India
Phone: +91 3692 225 538